Description
Product Description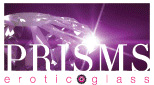 Lila is an engaging sight indeed. With its small handle, the piece can be turned while inside. Pleasure buds along the shaft for enhanced stimulation and a specifically contoured tip that will send you into a carnal frenzy, especially while the piece is being rotated inside. Lila is a luxurious pleasure object with sleek and direct lines that lend themselves to erotic stimulation. Amplify your sex play by serving Lila warm or chilled.
Measurements:
5.5 inch overall length, 2.2 inch diameter base, 3.5 insertable length, 1.58 inch max insertable diameter
Material:
Borosilicate Glass
Color:
Clear
Payment & Security
Your payment information is processed securely. We do not store credit card details nor have access to your credit card information.